The beginnings of Montgomery.
We're proud of where we came from. Here's a snapshot of our successful journey!
Since 1956, our agency has been guided by the conviction that providing world-class service to each and every client, every day, in a friendly, down-to-earth way sets us apart.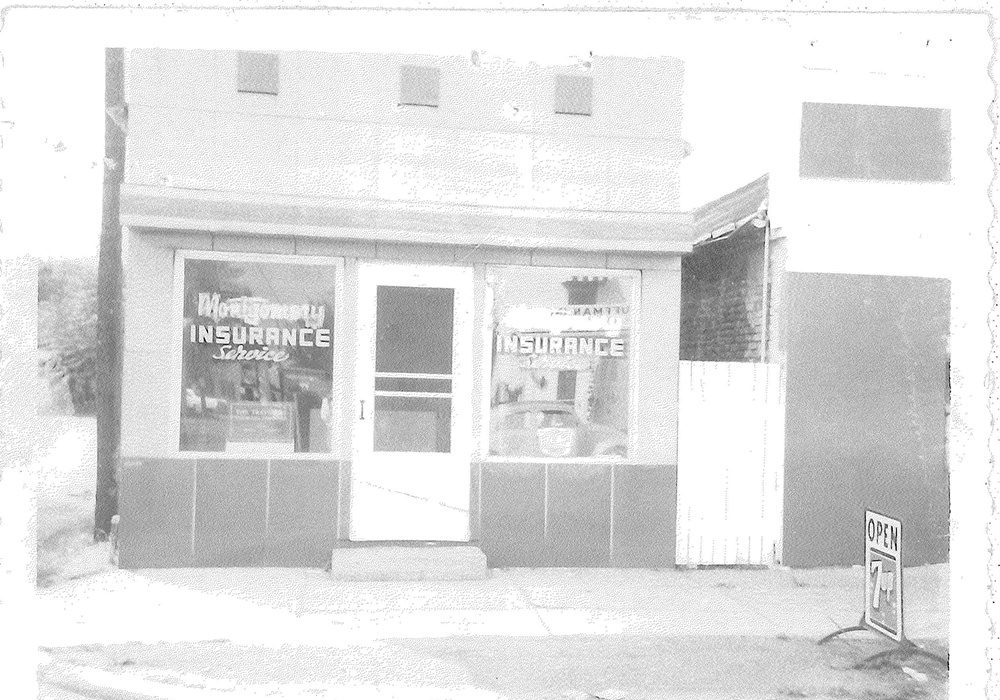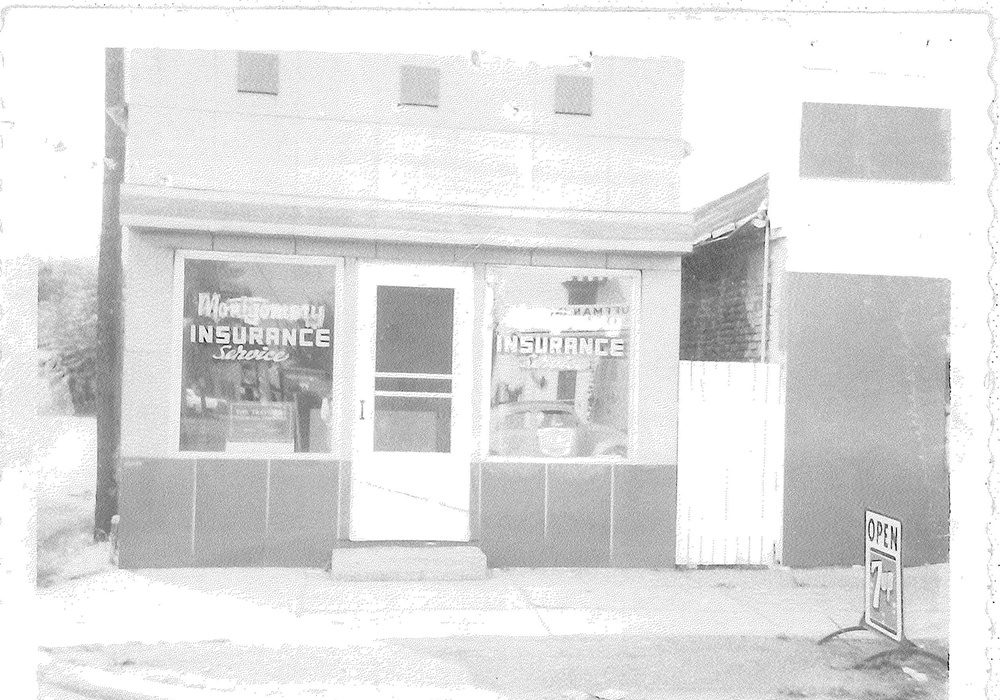 1956 – MII opens its doors in Beavercreek, OH
Our doors were opened in 1956 by Robert T. Montgomery. Bob was born and raised in Xenia, OH. He was a Korean War Veteran in the US Marine Corps and attended the US Naval academy. He married Dorothy Wilson and had four children. Prior to founding MII, Bob worked at the Ray Cox Insurance Agency, and due to covenants, Bob moved his agency to Beavercreek when he left Ray Cox Insurance.


Early 1980's – Phil Benson retires
In the early 1980s Phil Benson retired and Bob needed more manpower to handle the growth in sales and operations. David Mathias was added as an account executive and was very successful in sales and community service.
Bob began to expand his expertise into life insurance and financial services setting the agency apart from most of their competitors who handled mainly home, auto and business insurance. The agency continued to grow.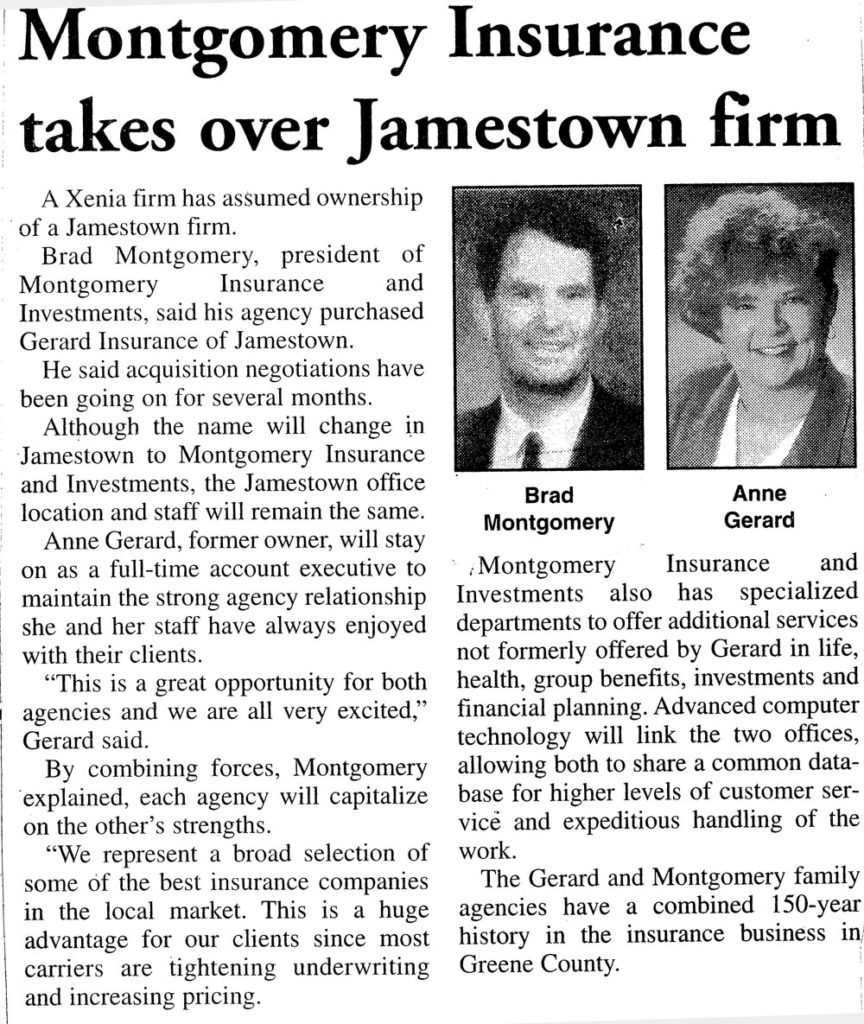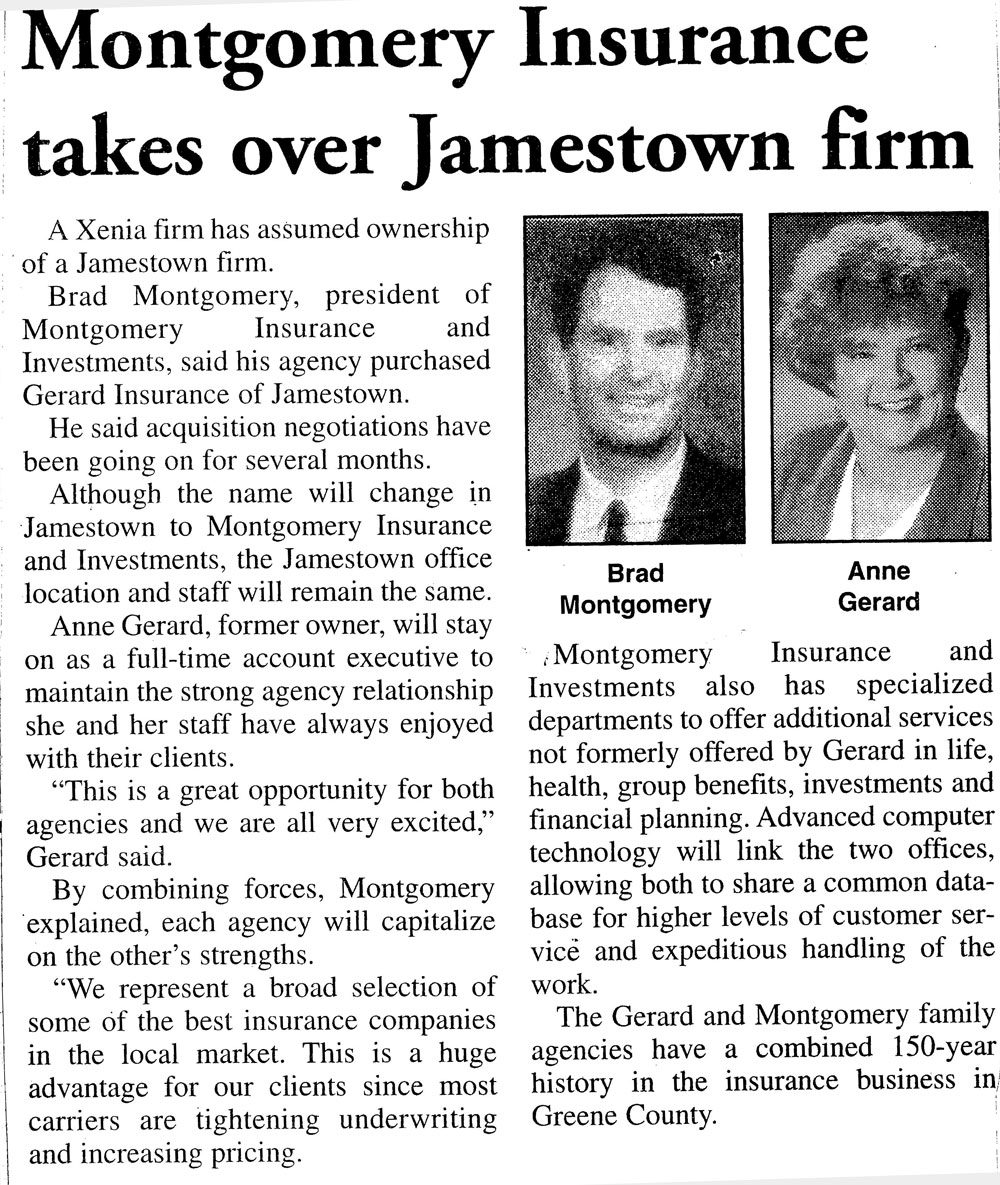 2002 – MII acquires the Gerard Insurance Agency of Jamestown, OH
In 2002, Montgomery Insurance and Investments purchased the Gerard Insurance Agency of Jamestown, OH. Anne Gerard came on as an account executive and served her clients and community well before retiring in 2009. This agency acquisition allowed Montgomery Insurance and Investments to gain a larger presence in eastern Greene County and added a significant book of farm owners business.
The professional and well-experienced staff coupled with the new markets of Westfield and Auto Owners Insurance companies added new quality insurance programs to offer clients and created one of the largest and most diversified insurance and financial services firms in Greene County.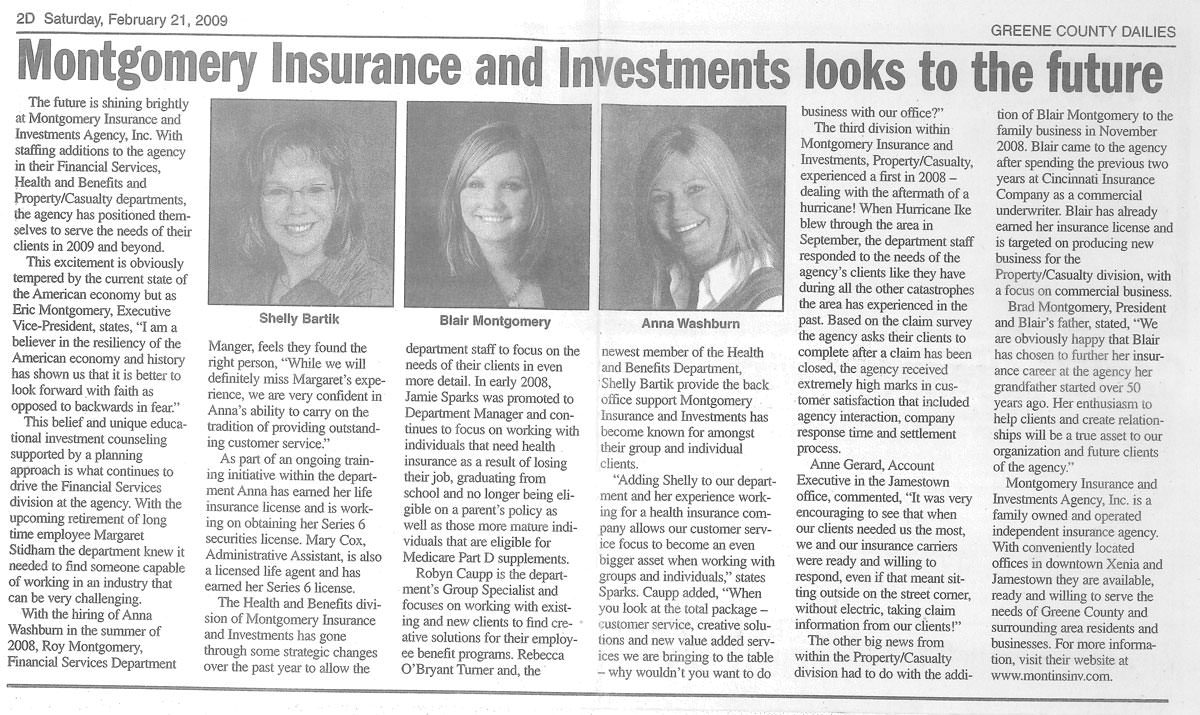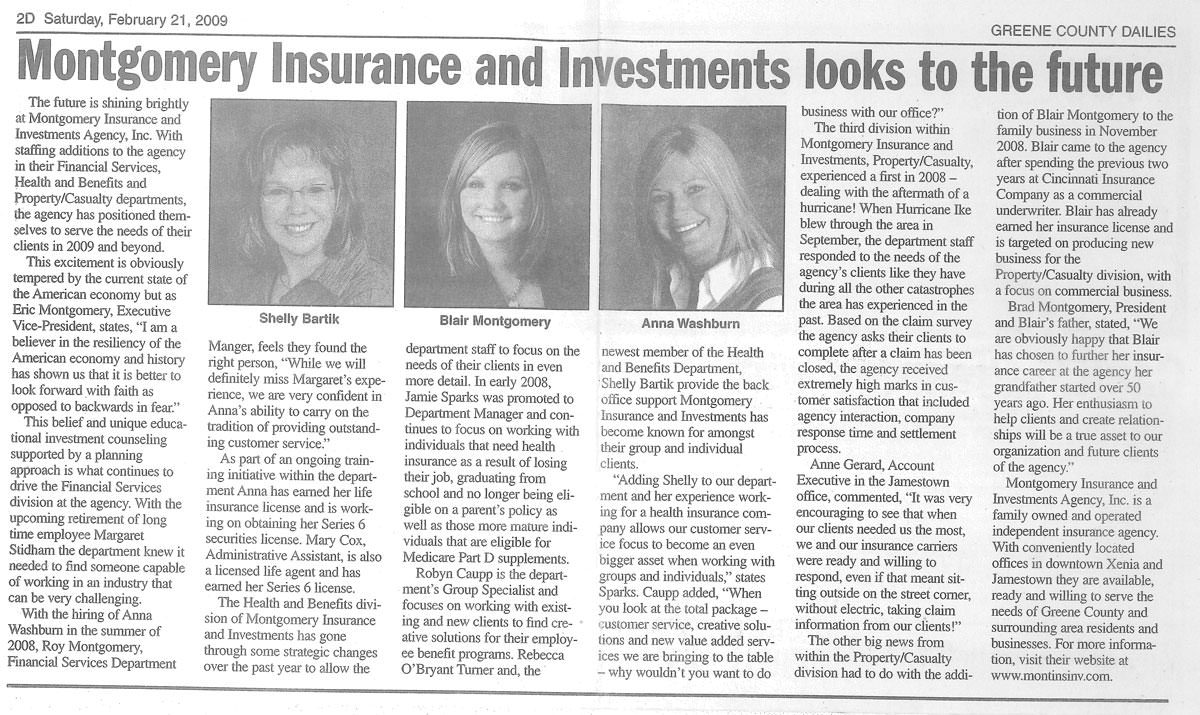 2008 – Blair Davis joins MII
In 2008 Brad Montgomery's daughter, Blair Davis, joined the firm. She strengthened the family-owned agency by bringing her experience as a commercial underwriter with The Cincinnati Companies to the commercial lines department. Her enthusiasm and commitment has made an impact on the agency and community.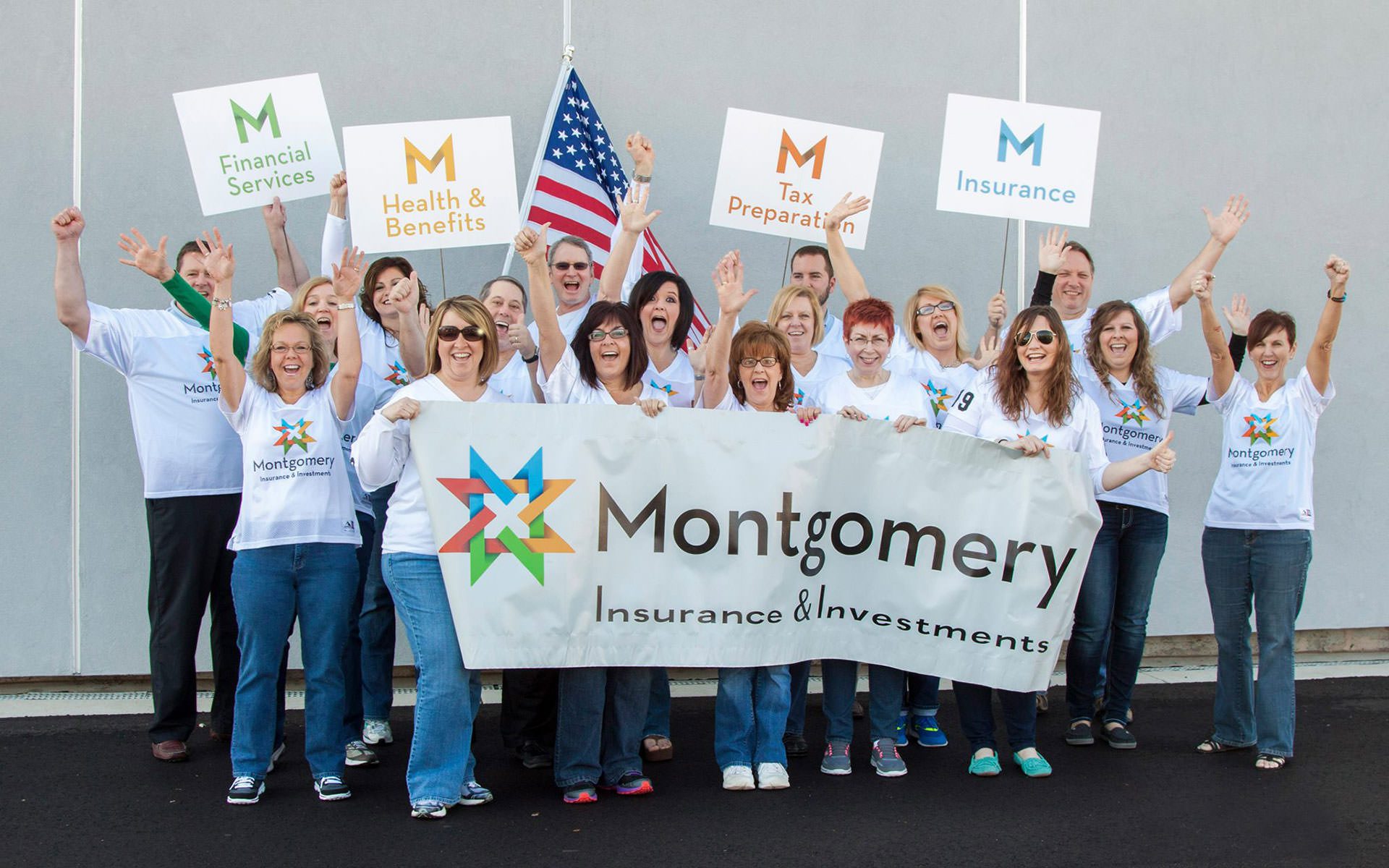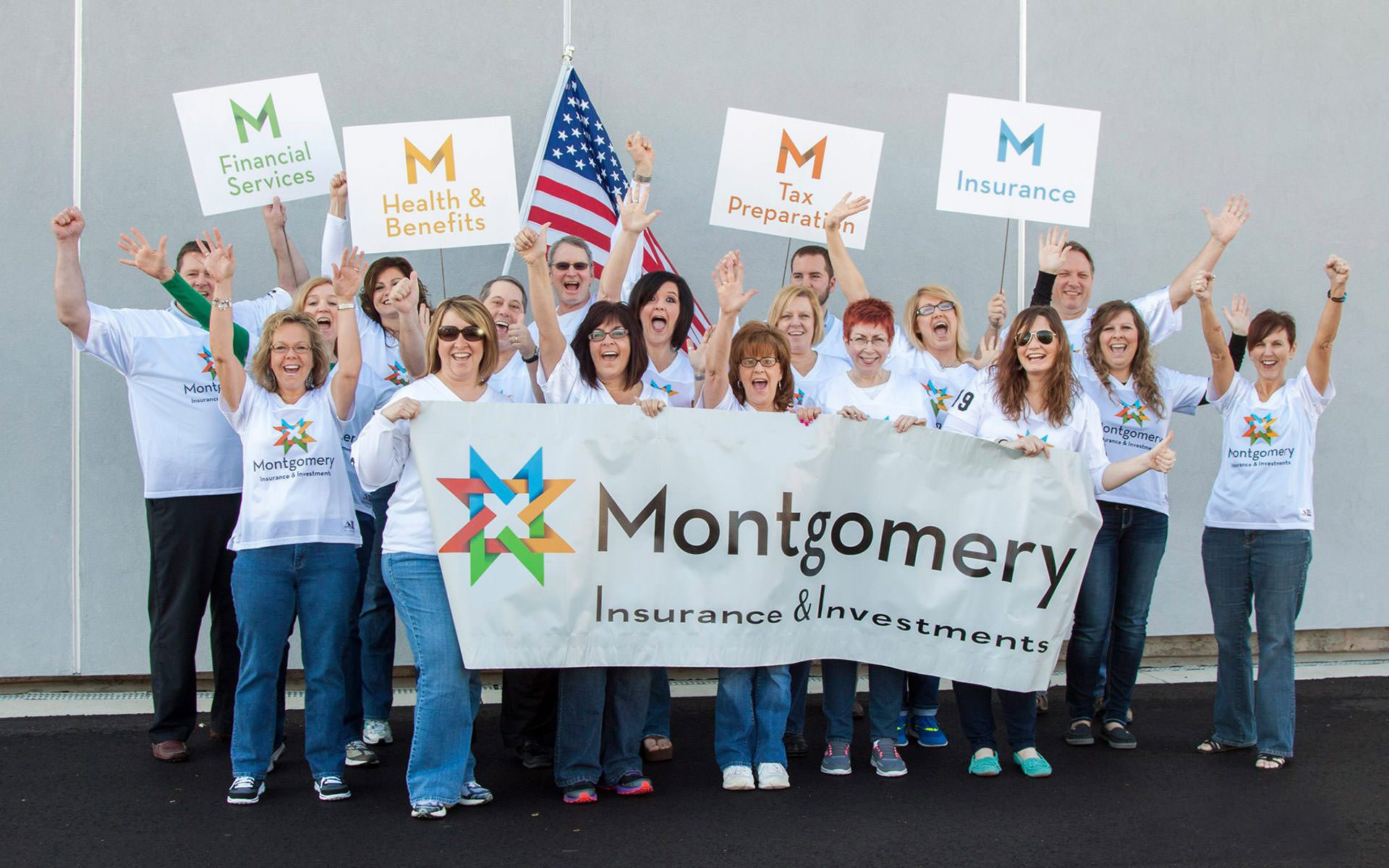 2019: Kent Montgomery, Eric Montgomery's son, joined the agency in the financial services department adding another team member from the 3rd generation.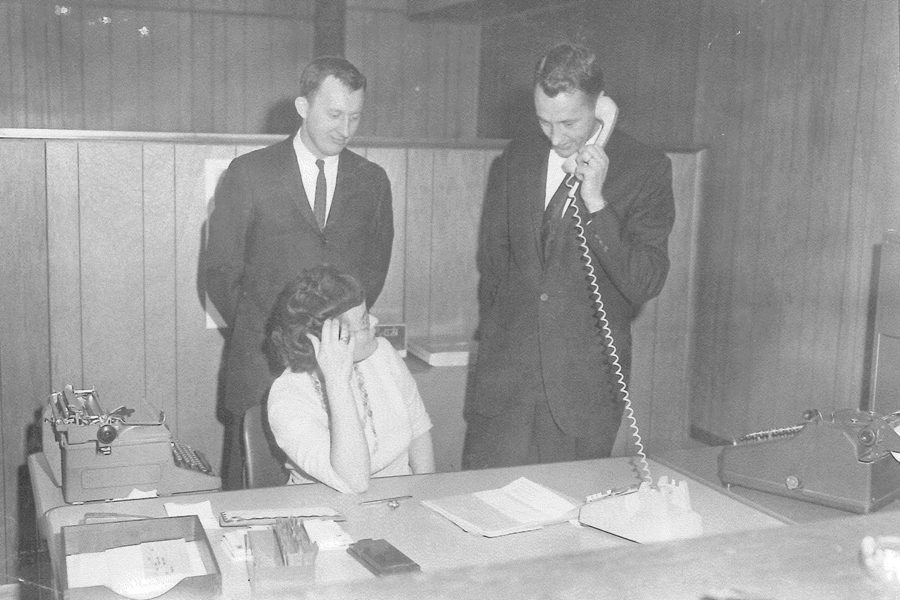 1962 – MII acquires agency in Fairborn, OH
In 1962, Bob purchased the Brote Insurance Agency in Fairborn, OH.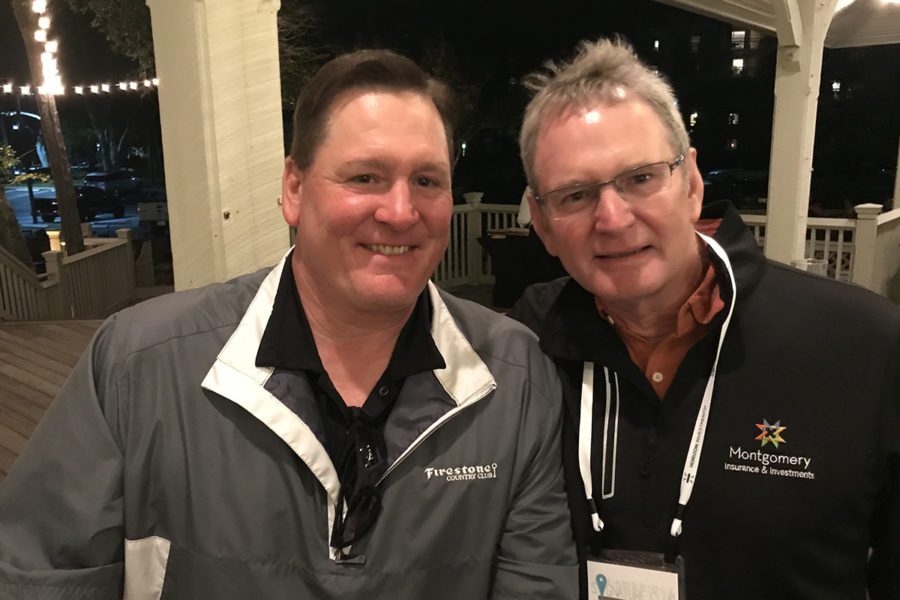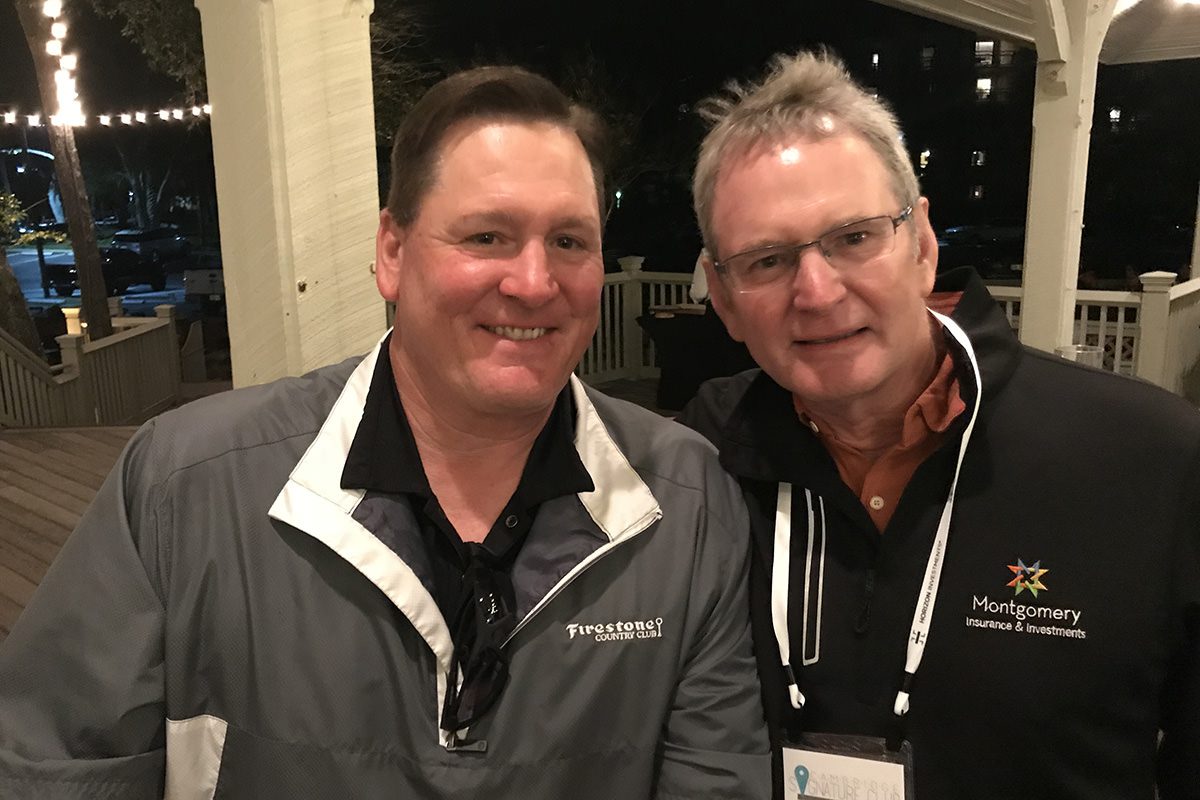 Mid 1980s – Bob Montgomery's two sons join the agency
Later in the 1980s Bob hired his two sons to join the growing agency. Brad Montgomery, who worked for Travelers in commercial underwriting, and Eric Montgomery, who also worked for Travelers in financial services. With their experience, a great team was created.
Travelers, Ohio Casualty, Shelby Mutual, Progressive, Blue Cross/Blue Shield and American Community were the primary insurance companies represented at that time.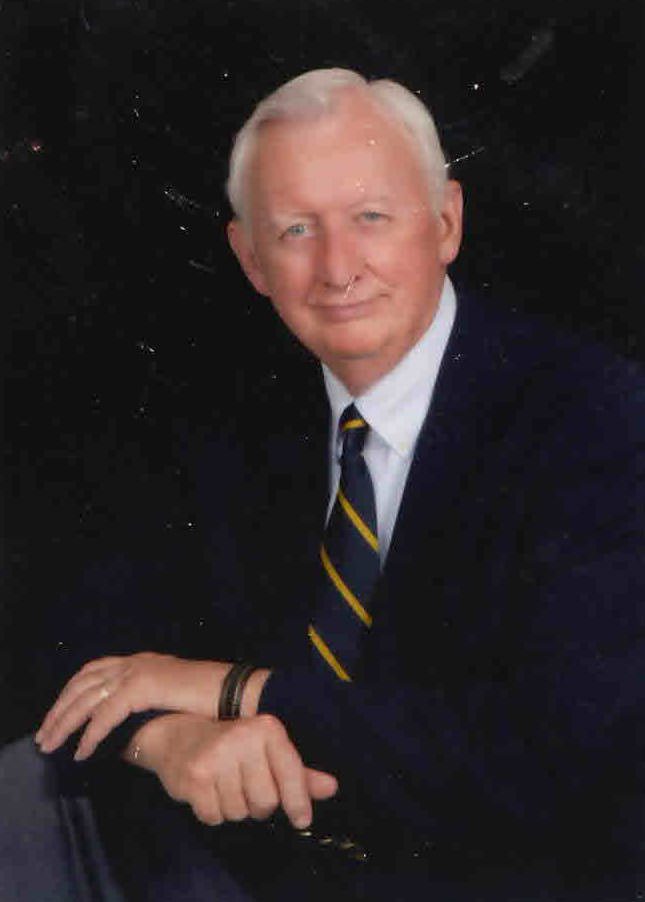 Late 1980s – Montgomery brothers join forces
Richard Montgomery, Bob's brother, worked with the agency in the 1960s and then formed his own agency. Several mergers later his agency was called Montgomery-Pidgeon Insurance. In the late 1980s, it became apparent that the two agencies may be much better off by combining forces. Dick could use the resources of a larger agency and Bob could use new markets like The Cincinnati Insurance Co.
This merger was like no other. Not only did Bob and his brother Dick reunite family, but the agency also took a monumental leap in establishing itself as a prominent provider of financial services and group benefits in addition to the standard lines of home, auto and business insurance.
The agency decided to departmentalize by product line. Instead of account executives being a jack-of-all-trades and master of none, they became specialists in their own area of expertise. The account executive specialists would truly understand their product line. This specialization provided a knowledge base that could best serve their clients' needs. While the financial services and group benefits departments became an increased focus for the growing agency, the property/casualty department became even stronger with the addition of Cincinnati Insurance Company.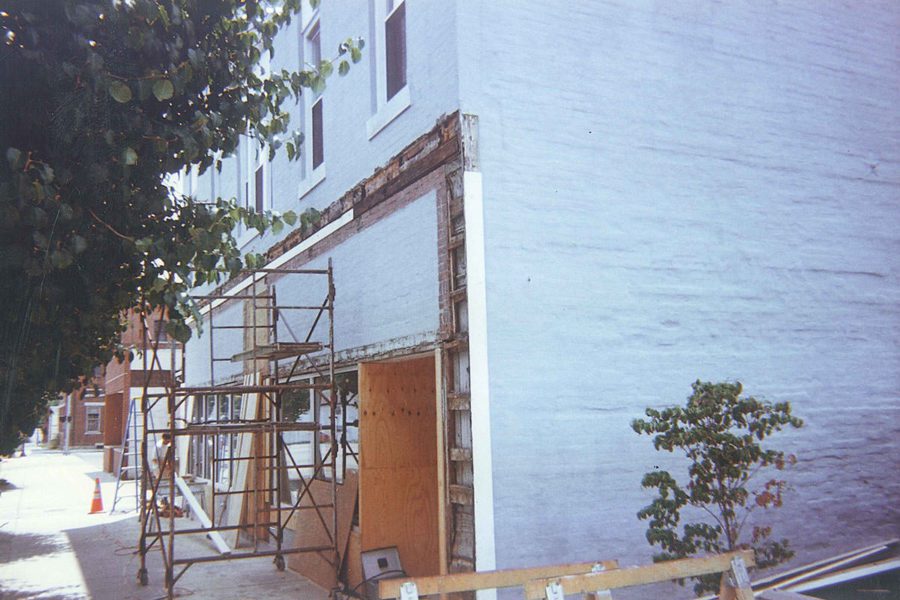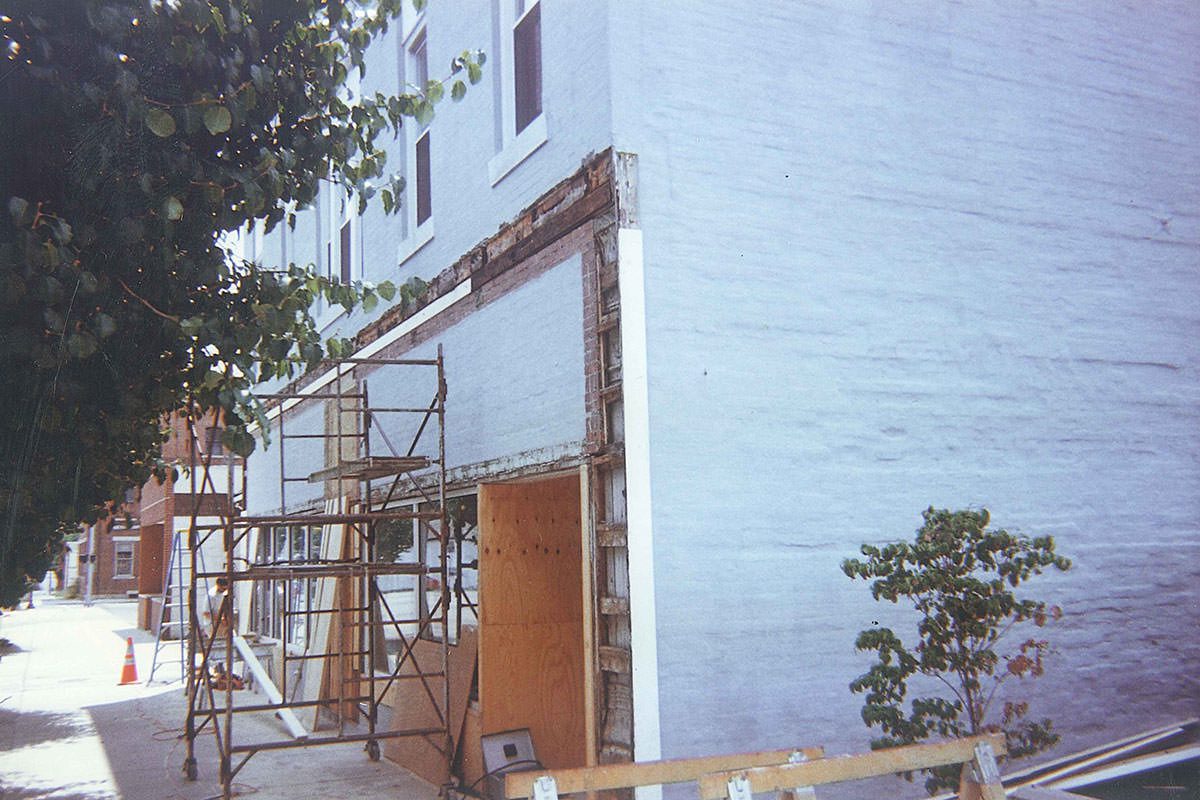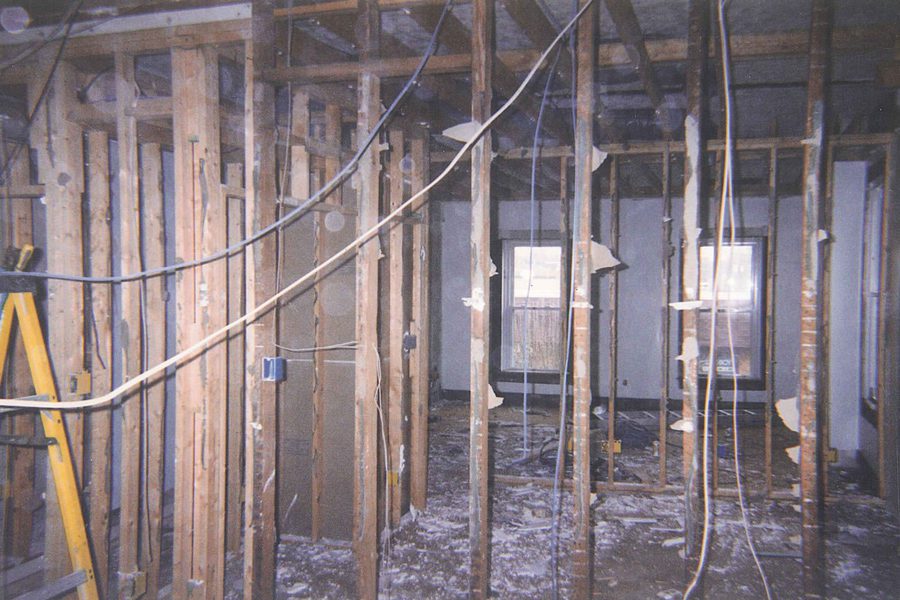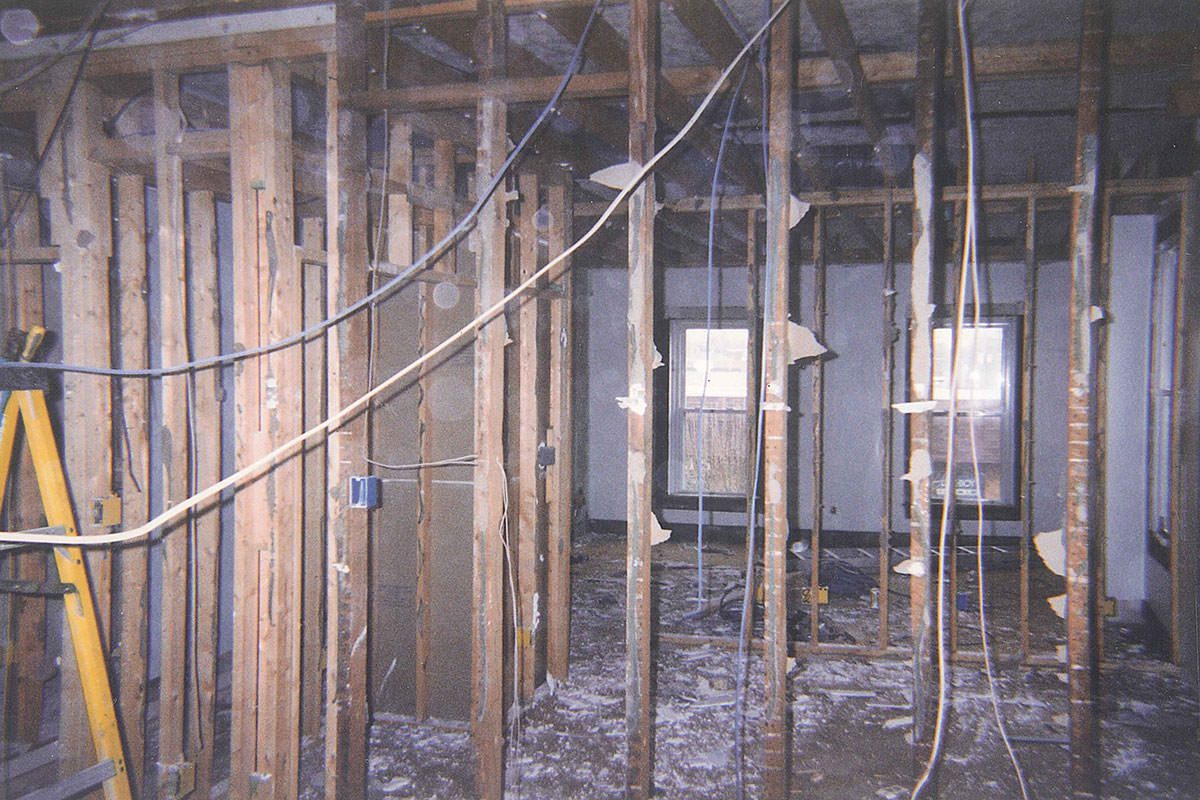 2003 – MII office goes through a large renovation
Our office in the Jamestown community was being renovated, both the exterior and interior, which was our office located on the corner of Washington and Limestone Streets.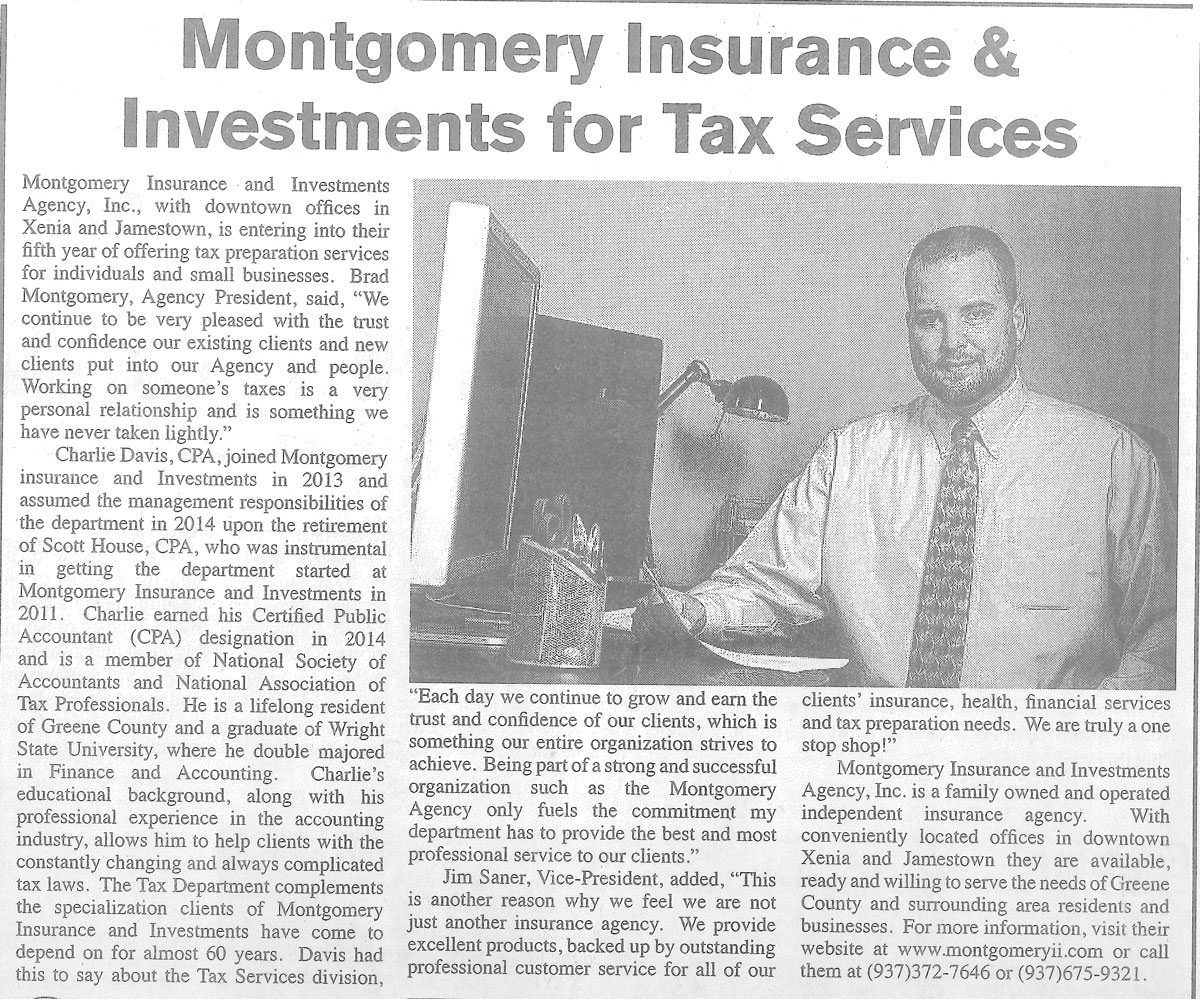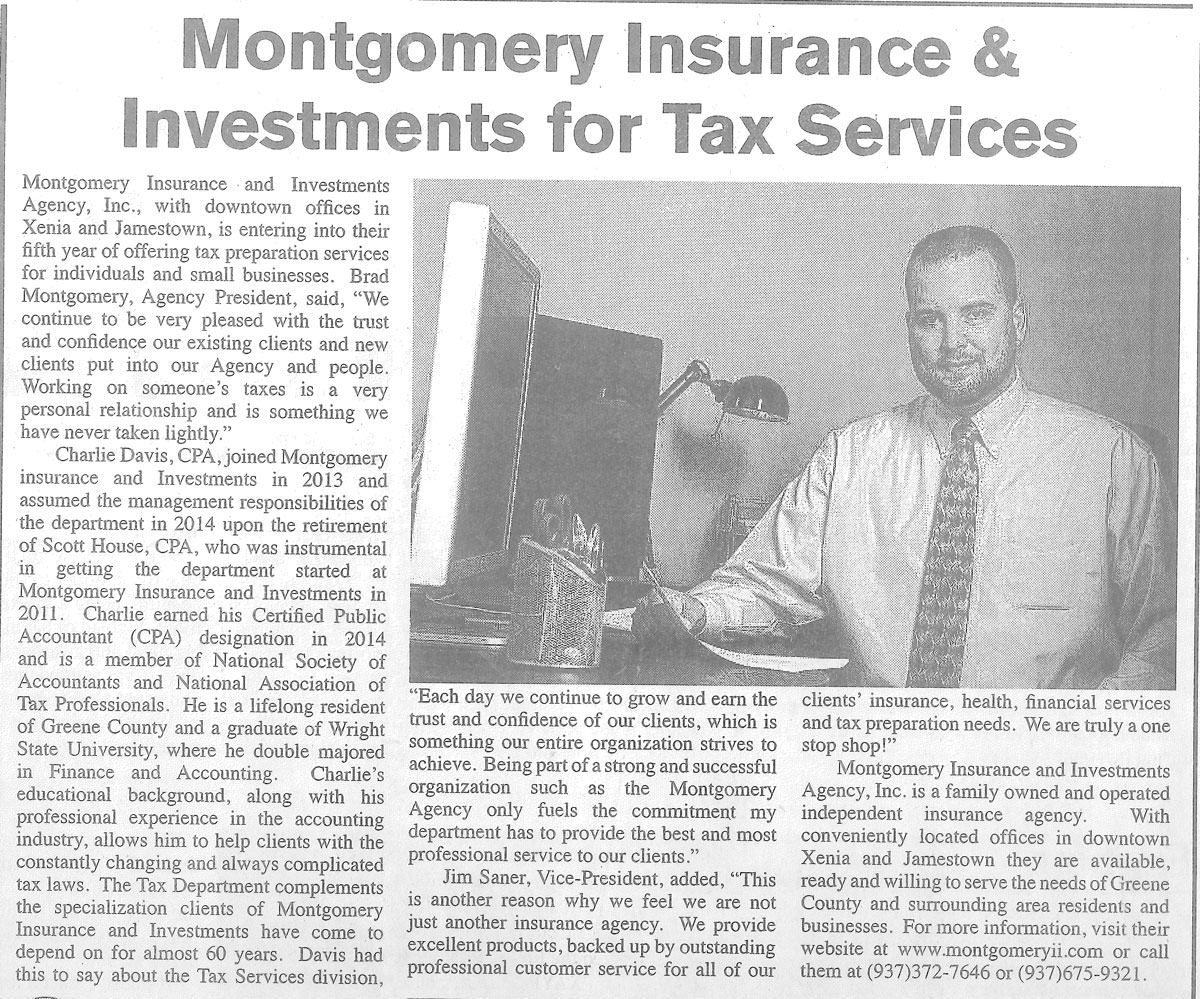 2011 – MII adds tax preparation as a service
In 2011 Montgomery Insurance and Investments added a 4th department providing tax preparation services to its clients. CPA Scott House joined the firm. Scott has over 40 years of experience as a CPA specializing in tax preparation. He has grown the tax department significantly and built many new relationships in his short time with the agency.
2013 – Charlie Davis, CPA joins MII
A new family member joined the agency in 2013. Charlie Davis, Brad Montgomery's son-in-law, came aboard as the future of the tax preparation department and to serve as CFO for the agency.


1965 – MII adds a partner to the leadership team
In 1965, Bob added a partner, Phillip Benson, who had been his banker. Phil was the manager at Xenia National Bank. The agency became Montgomery-Benson Insurance Agency, Inc. The new partnership purchased the building at 114 S. Detroit St. in Xenia, OH and consolidated all offices into this facility. The partnership thrived with Phil managing the operations and Bob focusing on sales.
Bob began to expand his expertise into life insurance and financial services setting the agency apart from most of their competitors who handled mainly home, auto and business insurance. The agency continued to grow.


1996 – Jim Saner joins MII
In 1996 Jim Saner joined the agency. Prior to joining MII, Jim worked for The Cincinnati Companies as a commercial underwriter. Jim's experience along with his operational and technical skills became invaluable to the agency. Jim is now a principal of the agency.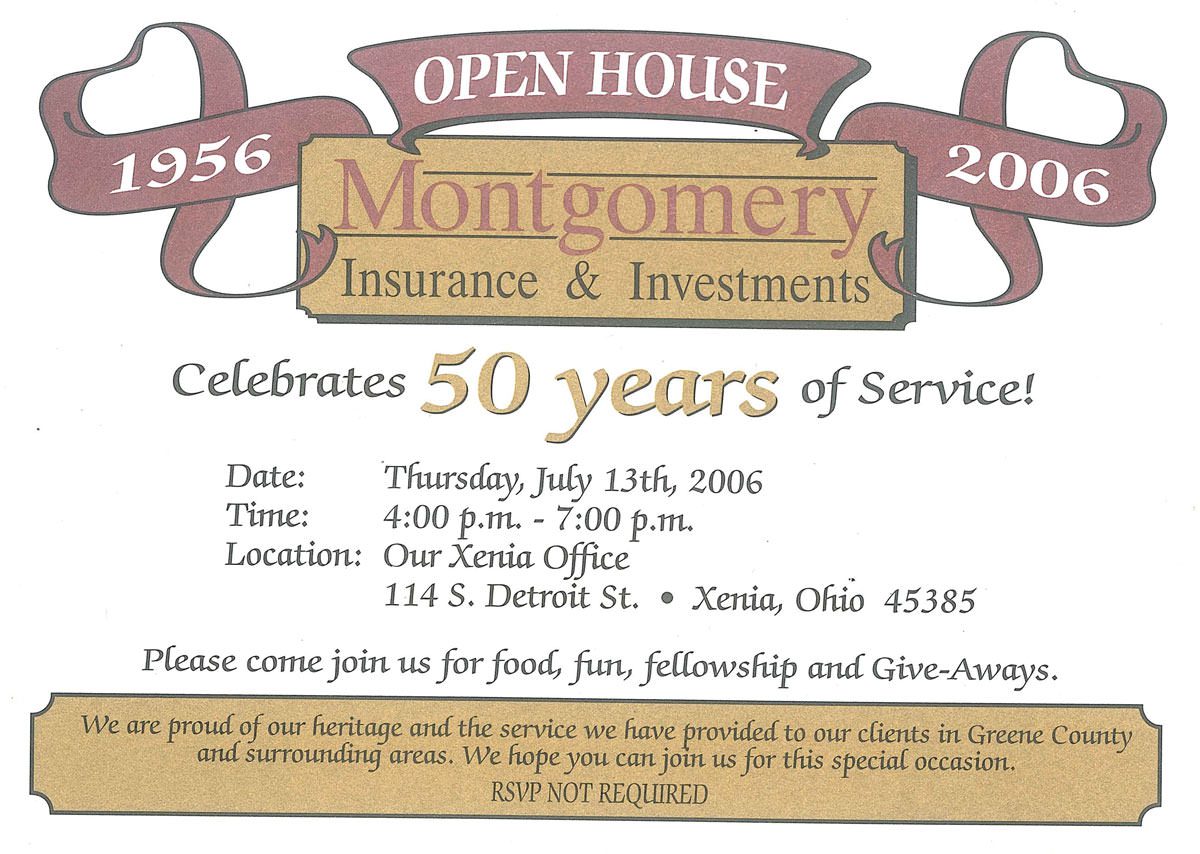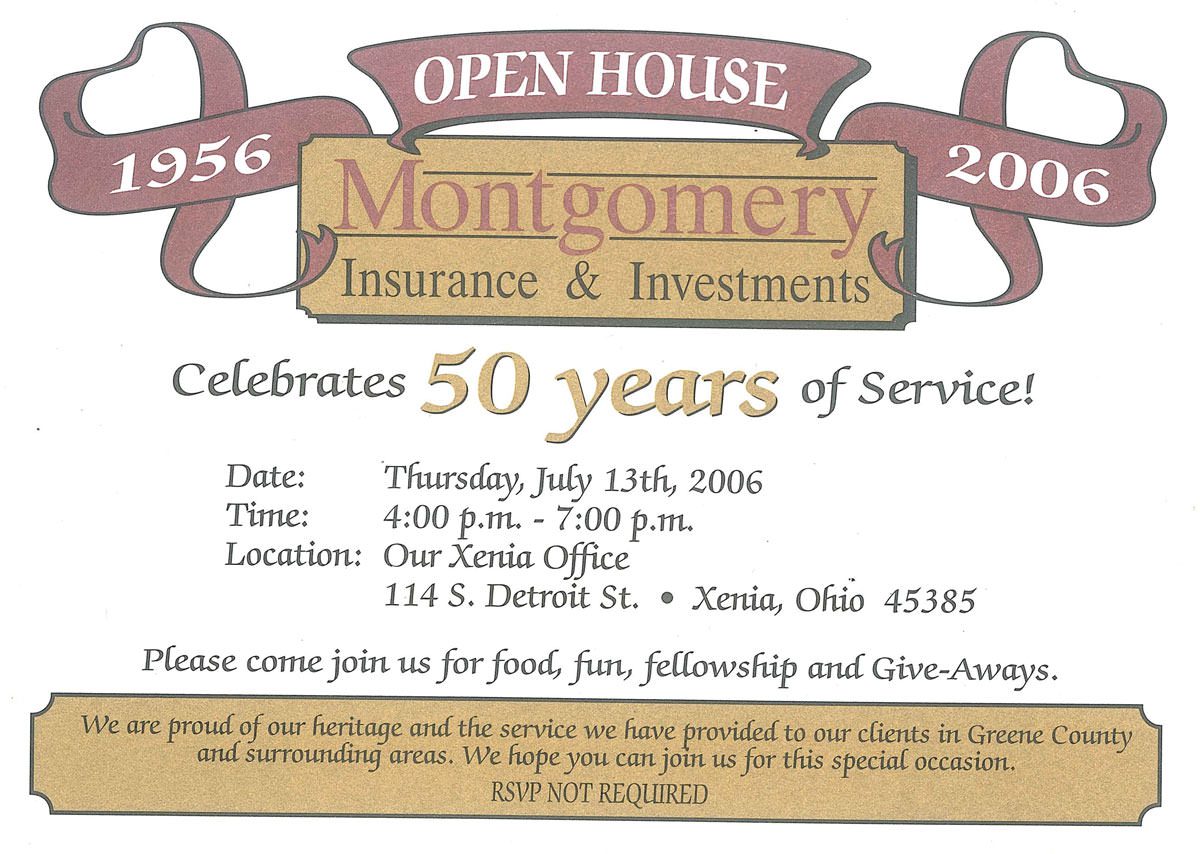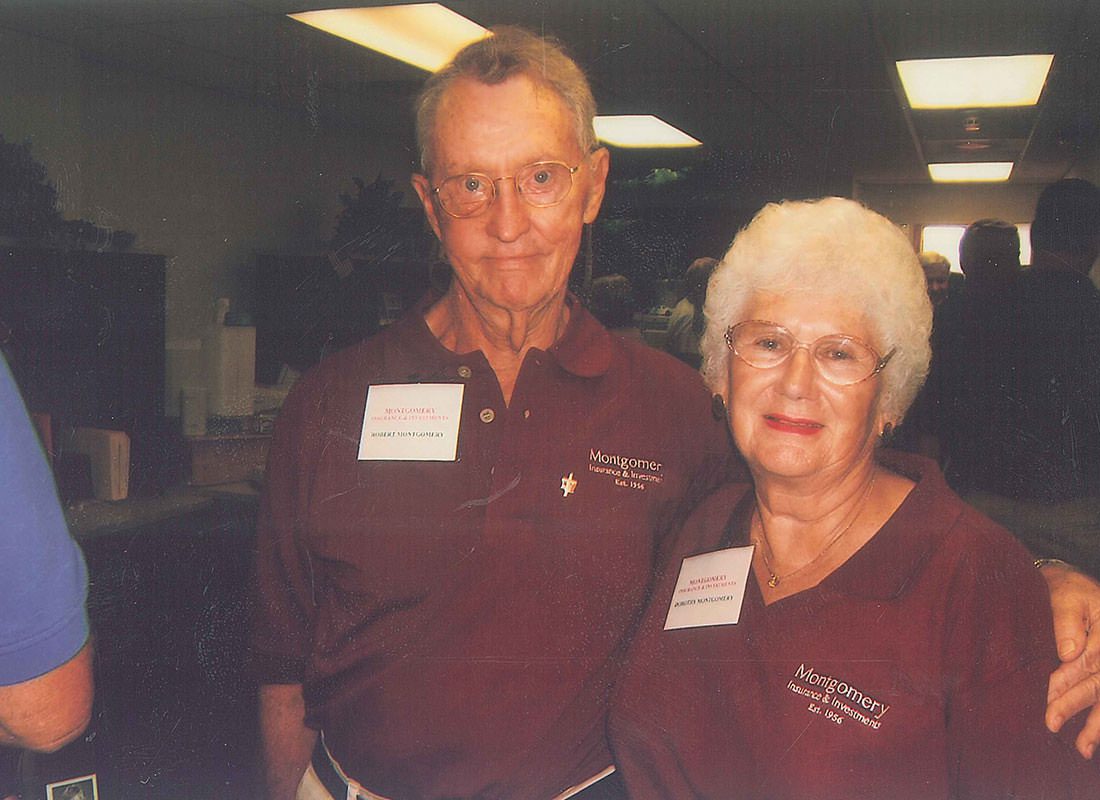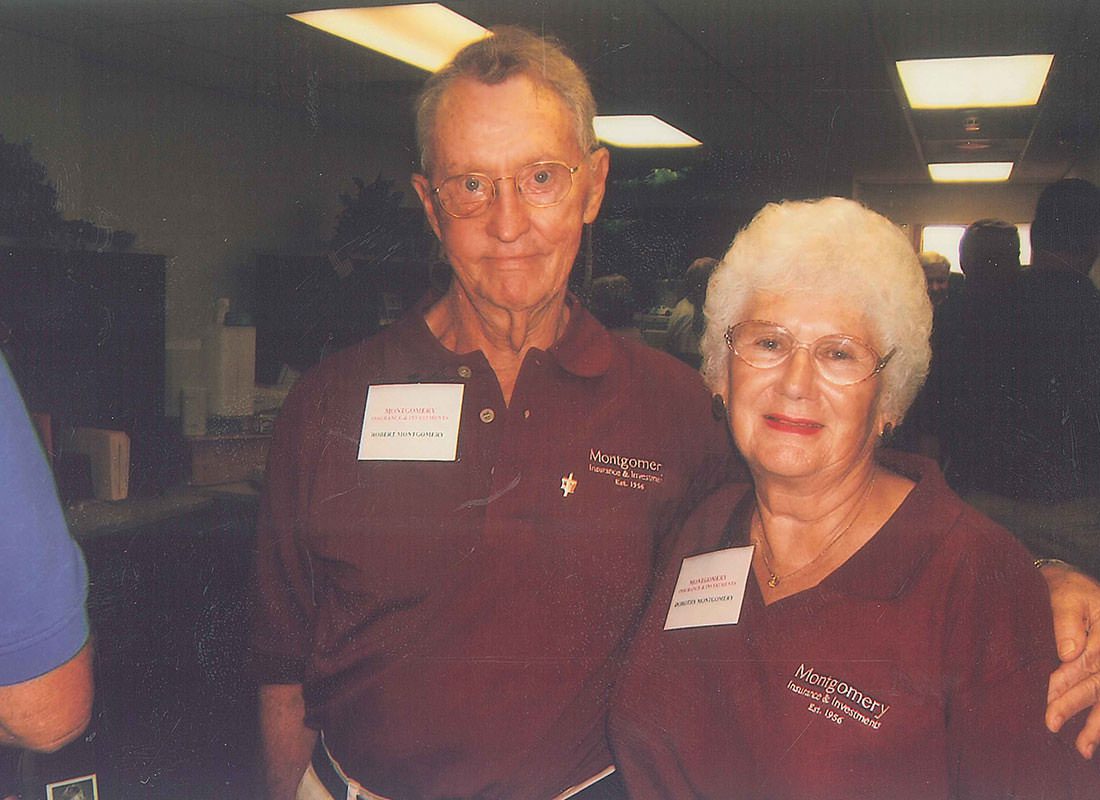 2006 – MII celebrates 50 years
Montgomery Insurance and Investments celebrated their 50th year in 2006. The focus of the agency continues to be world class customer service and commitment to the individuals, businesses and communities they serve.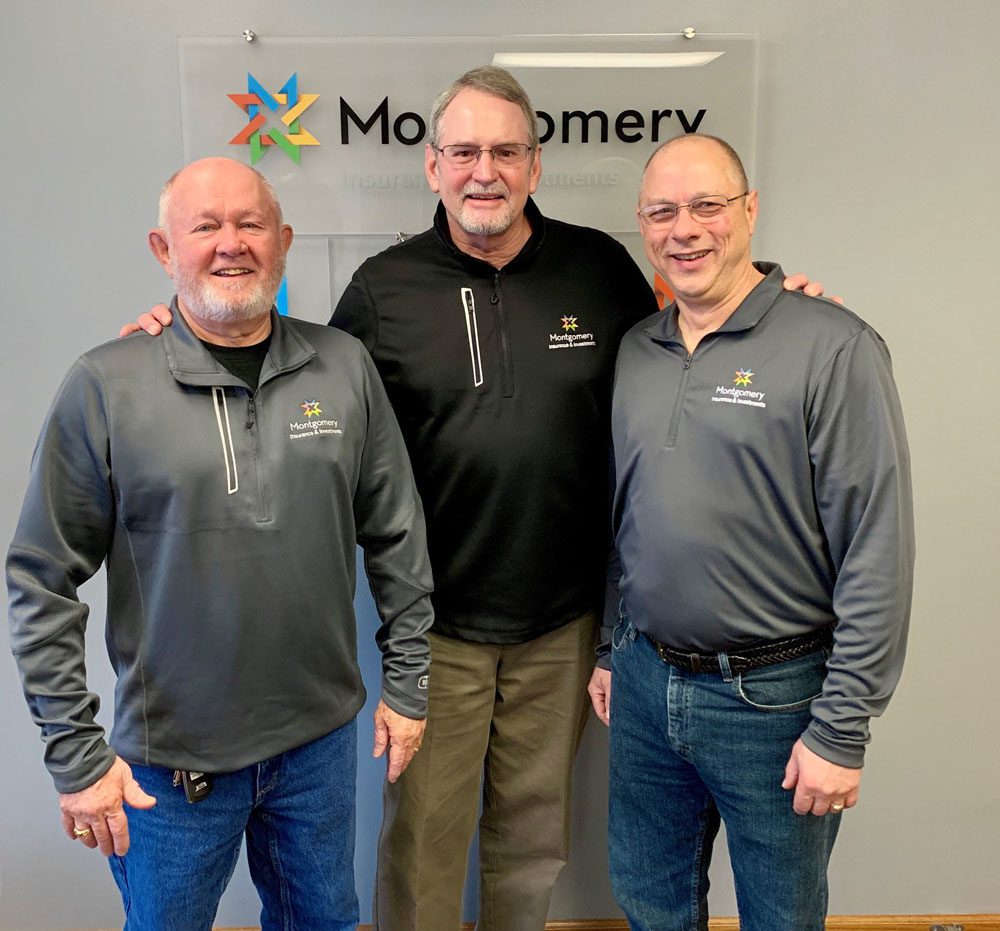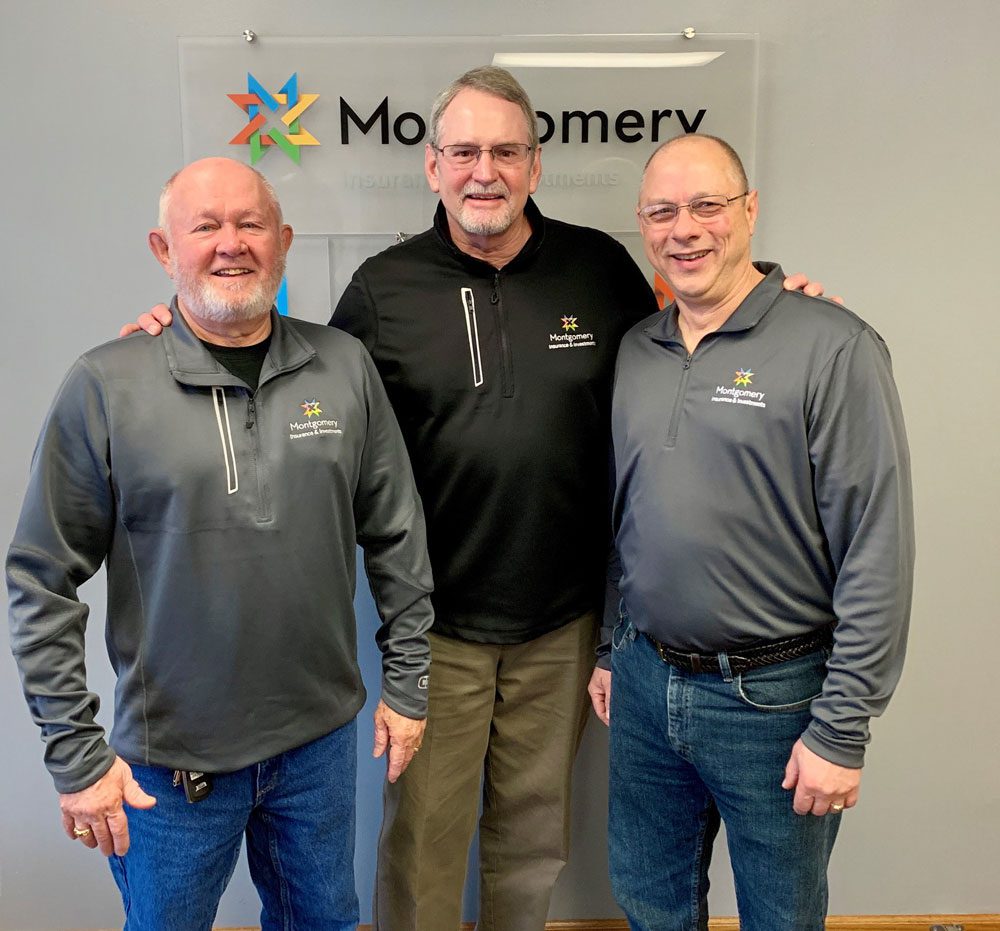 2018 – MII acquires the Champion Insurance Agency of Beavercreek, OH